Products and Materials Guide
last update:2006.02.07
Products Guide
We introduce various technologies such as ultra-precise Tungsten Carbide material and direct tap & the direct threading technologies which are one of feature of us. Click here.
Precise Tuncgsten Carbide Preforms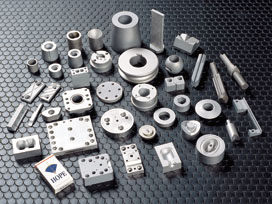 Tungsten Carbide is quite hard and highly difficult to machine after being sinterd. Making the full use of high-technologies, we reduce the machining allowance as much as possible, contributing to the shortening of machining time for users and moreover to cost reduction and earlier delivery dates.
Recently, there have been increasing those articles which are put into use as they are alloy materials or wich are only partly ground.
go to Top
Direct Tapping / Direct Threading for Preforms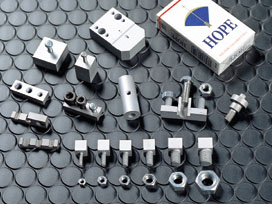 Conventionally, Tungsten Carbide has been tapped or threaded with the use of carbide-brased iron pieces or tapmateing(our patent) or by EDMing(Electric Discharge machining).
We have made it possible to directly tap or thread tungsten carbide, whichever round or rectangular shaped it is, at various positions and to necessary numbers. As a result, large extents of cost reduction of molds and shortening of delivery dates have been archived, and tungsten carbide can simply be fitted to iron, ceramics or the like, thus applicable to various molds and jigs. Thus, we expect that use of tungsten carbide will expand by leaps and bounds.
go to Top
Tapmate (Threadable Preforms)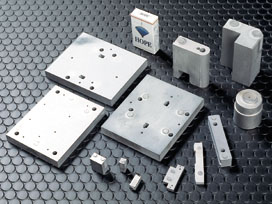 Conventinally, Tungsten carbide has been tapped by a tapping-dedicated discharge machine or by brazing pieces (steel material) and using these pieces. EDMing costs very high and involves a problem of strength and large time and labor with the result of increasing costs.
Tap-mate is low cost, high strength and highly reliable, and further allows one tungsten carbide to be threaded at a single or plurality of places.
go to Top
Blanks for Wire Cut and Grinding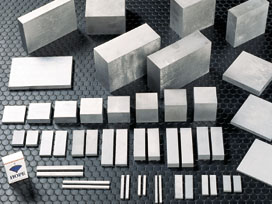 As a provision for shorter delivery dates of molds and dies, we have prepared an abundance of stocks for wire-cut(WEDM) materials and grinding materials. Stock items can be sent out on the day. Standard stock table is available on request.
go to Top
Rods (Tungsten Carbide)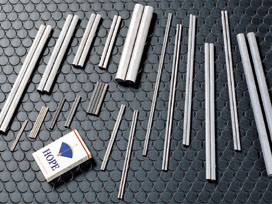 Superhard round bars take time to manufacture. We have a stock of them to meet users' shorter delivery date, enabling them to be sent out on the day.
go to Top
Very long / Gigantic Preforms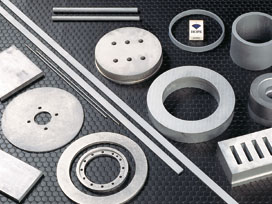 Tungsten Carbide materials have been required to be increasingly longer and larger year by year, and currently up to 1,200 mm long round bars and rectangular bars have become practicable. Outer diameters of up to 250 mm can be implemented. We are ready for manufacture of tungsten carbide materials weighing beyond 100 kg by one piece.
go to Top
Thin Plates (Tungsten Carbide)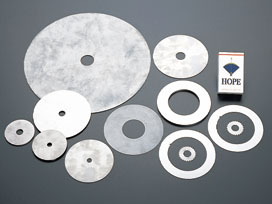 In Conventional thin carbide blanks, major issues were material cost and machining cost in polishing process on unnecessary thickness (polishing margin of 0.2 - 0.5 mm per side). In order to break through this situation we have just started production of ultra thin carbide blanks of less than 0.1 per side. Basic configurations are plate and disk, and yet various configurations are also available. Further process such as hole, groove and cut also served by us. As a result of this, the customer will be able to save drastically material cost, grinding/polishing cost and their process.
Minimum thickness for basic configuration are as follow:
Disk for Blade 240mm diameter ... 1mm after sintering
Outer diameter 100mm ... 0.3mm after sintering(0.25mm MAX).
Plate 100mmx100mm ... 0.3mm after sintering(0.25mm MAX).
go to Top
Materials Guide
We introduce simply concerning the various alloys which we have produced. Click here.